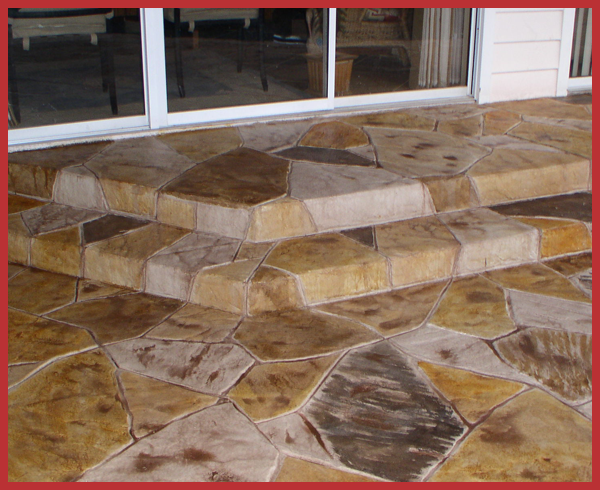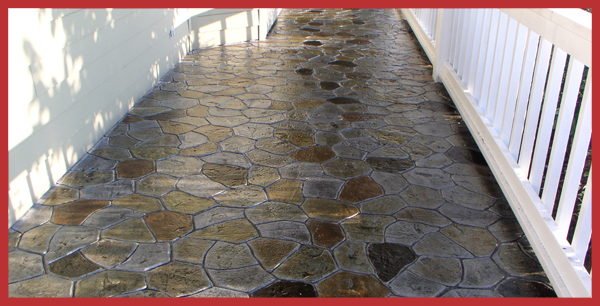 Stamped concrete is a beautiful finish used for pool decks, patios, driveways, and interior flooring. We have several different patterns that we do for stamped concrete. Stamped concrete can resemble brick, slate, flagstone, stone, title, and wood. We use acid stain to highlight some of the stamped concrete designs. Stamped concrete is also used for internal application with the acid stain colors. We use epoxy sealer in order to seal the stamped concrete. Stamp concrete is used for commercial setting as well, like restaurants and clubs. Stamped concrete can last many years with low maintenance and a clear sealer. Stamped concrete is one of the best solutions for your patio, pool deck, and driveway that give a beautiful appearance to your property. Stamped concrete is a less expensive alternative to using other materials such as stone, stale or brick.
To do this type of work the surface has to be pressured washed, but if there is any paint on the pool decks or driveways the paint has to be grinded. We must acid wash it to insure that the selected area of work is clean before we apply two coats of bonding primer. After the primer dries we apply the concrete stamped mix and level the concrete. We let the concrete dry for half an hour then we apply concrete release too the rubber mats to make sure that the stamped concrete has a nice finish. We then apply colors depending on what the homeowner's choices from. After everything is dry we apply two coats of concrete sealer to give a nice gloss appears.
Stamped concrete is also used for vertical stamping on walls. We have different patterns as well for wall finishes. Spray deck is a decorative texture that is used for pool deck, patios, and driveways. Spray deck is not slippery.